New: Portfolio management
A new page containing many new features has just been published. We named it
Portfolio Management
. This page contains a variety of summarized information that we collect from users' projects and display in the form of indicators. In addition, each user can customize their page and indicators by using project filters, or by adding new custom fields.
The project filter based on administrative units is improved: if no project corresponds to a unit added to the filter being modified, the user can still save the changes. On the other hand, once the change has been saved, no project can display in the page.
The custom project filter in the

Report Center

is functional again.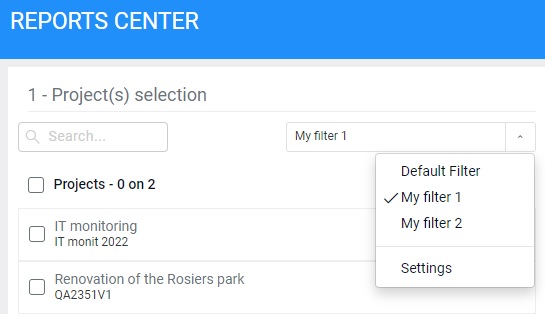 Fixed a bug preventing users from filling out more than one timesheet at a time.

Hours entered in a timesheet are no longer calculated in the progress of the task, until they are approved.
Scheduler
Users can now link (or not) the progress of a task to the effort of the resources. Thus, the progress bar will evolve as the effort increases to complete the task.
The default value of the field

Probable impact in days

has been changed: instead of

Not set

, it is now

0

.
Fixed a bug on approval chain: the chain stopped working if a previously rejected request was sent again. Now, a previously denied request can be approved if resubmitted.